The Cloudknitters // De Wolkenbreiers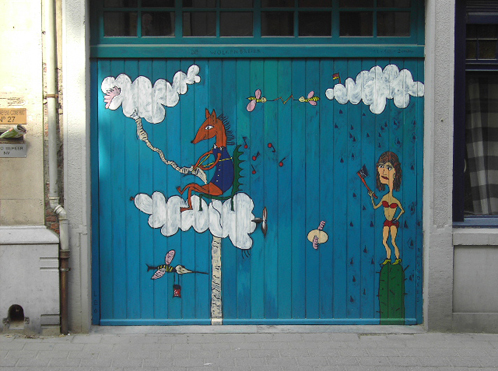 Is it possible to make sculptures out of sound? The Belgian artist Leo Reijnders believes so. In his on going series "Wolkenbreiers", Reijnders invites visitors to his radio program to create their own self portraits. His list of guests runs the gamut of cultural thinkers, from renowned local artists, such as Guillaume Bijl, Ria Paquee, Danny De Vos, and Koen Van Den Broek, to international visitors from all fields of the creative arts. These have included the Austrian curator Ulrike Lindmayr, Norwegian fashion designer Siv Stoldal, Ethiopian painter Mulugeta Tafesse, Gert Segers editor of "Revolver" magazine and "Echo Base", an experimental sound studio based in Brussels. Reijnders only ask questions when necessary, allowing the artists space to create their own "self portraits on air" about their activities.
This idea of letting artists present themselves has historical precedents. The Los Angeles artist Paul McCarthy utilized a similar strategy in the early 70's when he invited artists that were relatively unknown at the time to his radio show. Unfortunately his program was canceled when the young performance artist Chris Burden broke FCC rules by begging listeners to send him a dollar. The historical importance of McCarthy's project was acknowledged last year when the archives of around 100 reel to reel tapes were acquired by the Getty Museum.
Still to come on "Wolkenbreiers" in the near future are, museum director Jan Hoet, cultural TV presenters Chantal Pattyn, photographer/critic Bert Danckaert, theater maker Jan Fabre, painter Luc Tuymans, gallery holder Geoffrey De Beer, as well as many more. The program is available "on line" so that international listeners can follow the creative ideas circulating through Belgium. "Wolkenbreiers" is broadcast live on Radio Central at 106.7 FM on your radio dial.
Original article by Dennis Anderson (link)
the Cloudknitters/ de Wolkenbreiers on facebook